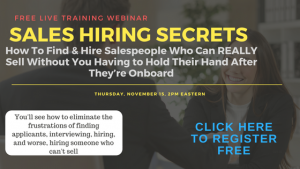 If you hire salespeople, you know how hard, and expensive the recruiting process is, and then there is no guarantee that your hire can actually produce.
In this free webinar, you will see the proven process that has taken over 20 years and tens of thousands of dollars to create, and resulted in more than 5000 successful sales hires, who have generated hundreds of millions of dollars in revenue.
You'll learn how you can spend less time and money trying to attract qualified candidates, and automate a process that ensures you only invest your precious interview time with people who can and will sell.
Even if you can't attend live, register and you'll get access to the limited time replay.