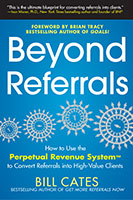 Today, I'm sharing some excerpts from Bill Cates' new book, "Beyond Referrals- How to Use the Perpetual Revenue System to Convert Referrals into High-Value Clients." (By the way, I'm pretty certain Bill was not the expert referred to in the other newsletter mentioned in the post/rant above)
Other than existing customers, your best source for proactively prospecting for NEW business is referrals.  Yet, most salespeople have not come close to mining this tremendous opportunity that is there for the asking.
Bill Cates, the Referral Coach http://www.referralcoach.com/ has helped tens of thousands of sales professionals and hundreds of organizations to implement and benefit from a referral culture.  In his new book, Beyond Referrals he shares those ideas that you can use as well.
As you know, I don't just recommend every book someone sends me or asks me to plug. I must believe in it. Trust me when I say this one belongs in your sales library.
I'm big on how-to's , messaging, and examples. This book is jammed with page-after-page of content you can adapt, modify, or even use as is. I won't even try to do it all justice here but I'll share some tidbits with you.
Be Curious
Bill suggests that you need to develop the muscle of "natural curiosity," meaning being interested and curious about your connections, and their connections. Once you see the connections, you can request specific introductions. For example,
"Lee, tell me more about your role on the board of directors for_____"

"Jessi, in what department here at XYC Corporation did you work before you transferred here?"
When you are aware and have the mindset of looking for connections you will see them. Ask yourself, "Whom am I going to be introduced to today?"
Whom Do You Ask?
Of course you don't want to ask everyone you speak with for referrals, as that can be pushy and cheesy. Bill says that you should ask those who have received value from you and it is recognized. You notice this when you are aware, and ask questions as mentioned above.
If you are just starting out, here are good places to begin:
Clients who love you.
Clients who have given you referrals.
Clients you have met through a referral.
Clients you want to clone.
When to Ask
A couple of great times to ask are,
When customers are excited. This could be after you have done a great job for them, or are preparing to work with them.
After they have just volunteered a referral. Cates calls this "referral momentum."
How to Ask
There are lots of methods in the book that Bill shares. One I particularly like is used when you have used the awareness strategy above. For example,
"Over the past two conversations I've noted five people you mentioned who may be strong candidates for the work that I do. I'd love to get your thoughts about that and, if appropriate, see if you can introduce me to them."
"Don't keep me a secret."
Bill has been teaching that phrase to his clients for years. He suggests using it all the time. Many make it a part of their written communication as well, and it works!
Ok, these are just some of the ideas I pulled and condensed from just the first 50 pages of this 230+ page book. If you deliver value to your customers now, they will refer you, with your help. You'll get those ideas in this book.