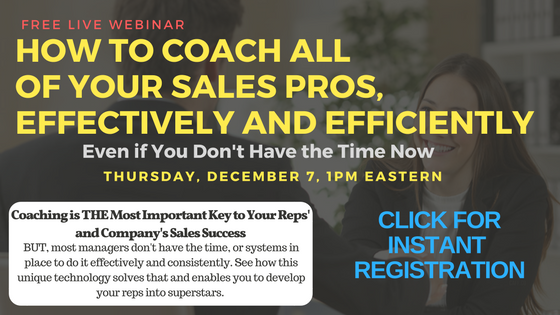 I've been coaching sales pros as long as I've been in business, and I admit, the traditional methods of reviewing calls and delivering feedback is cumbersome and time-consuming, which prevents most managers from doing it consistently. Or even at all.
Which is absurd. Really now, how in the world could a manager develop and coach reps if he/she doesn't know what is being SAID on calls?
In this upcoming webinar, we are excited to present how managers can efficiently and effectively coach ALL of their reps, so they KNOW what they are saying, correct poor technique and messaging, and help develop their sales pros into sales stars.
Steve Richard, Founder of Execvision, will be sharing his groundbreaking technology that blows away the barriers facing managers that prevent them from coaching, and doing it effectively. I am SO excited about this!
You'll see how to solve that in this webinar. You can register here. And please do share the registration link with anyone responsible for helping their sales pros improve: http://smartcalling.training/coaching-webinar/
Can't attend live? Register and you'll get a link to the limited-time on-demand replay the next day.