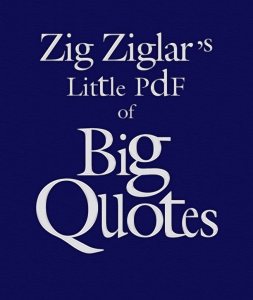 Here's a gift for you.
No one has been quoted more as it relates to sales than Zig Ziglar. He was one of my first mentors when I got into this business and I still use a lot of what I learned 35+ years ago.
I'd like you to have a free ebook of "Zig Ziglar's LIttle PDF of Big Quotes."
Just go to https://jd405.isrefer.com/go/story/asobczak and follow the link below the video.
Oh, and DO watch the brief video.
It's a brief, amazing story of Zig's life, how he was left for dead at 9 days old, to selling pots and pans door to door, to selling over 30 MILLION books and impacting the lives of more the 250,000,000 people!
It gave me chills.
Great inspiration as you go into the weekend. Enjoy!