By Brittany Griffin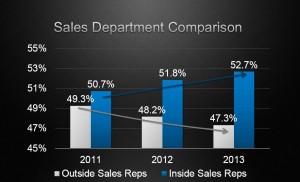 InsideSales.com conducted research revealing that inside sales is growing 300 percent faster than outside sales, with 42,400 non-retail inside sales jobs being created per year.
"A new sales model is emerging. It's not an evolution, it's a revolution," InsideSales.com CEO and Founder David Elkington said. "Organizations like ADP, IBM, HP and Google are shifting resources from expensive field sales models and deploying massive inside sales departments. This shows that the inside sales industry is ready to explode."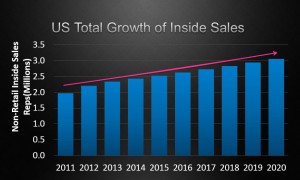 The 2013 Inside Sales Market Size Survey, conducted by the InsideSales.com Research and Analytics Division, found that outside sales reps are also spending more time selling remotely, with an average of 41 percent of their time spent conducting sales on the phone and Internet.
"Inside sales is fast, cost-effective and tailored to the needs of today's hyper-educated buyers. Travel expenses are minimized, and inside sales reps are achieving a higher percentage of quota than outside sales reps," InsideSales.com President and Founder Ken Krogue said. "Inside sales also offers buyers increased flexibility. They can watch a half-hour demo from their own office rather than setting aside half a day to meet with a salesperson."
According to American Association of Inside Sales Professionals (AA-ISP) Founder Bob Perkins, today's customers want immediate, succinct, relevant and experienced interactions at all points of the sales cycle, from prospecting through the close.
"Traditional face-to-face misses out on the immediate and succinct piece. It no longer has the advantage over a virtual exchange," Perkins said. "These skills and attributes are exactly what inside sales has proven to do so well over the years. It's exactly why corporations of all sizes are realizing and leveraging the power of inside sales. It's why our profession is exploding in terms of both job growth and revenue responsibility."
InsideSales.com foresaw the inside sales revolution during the inception of the industry and created technologies and solutions to make inside sales reps more effective. Clients experience improved contact rates by up to 65 percent, increased call volumes up to 8 times, enhanced sales productivity analysis and reporting and increased sales team motivation.
See how InsideSales.com accelerates sales through science in this video:
(Guest contributor, Brittany Griffin, is a PR journalist for InsideSales.com, the global leader in cloud-based sales acceleration technologies and solutions.)