Do you have anyone you buy from, or anything you buy, about which you say you will buy it forever?
Do you have any customers who are so over-the-top thrilled with you that they will buy from you
forever?
I had an experience that made me a "customer for life" of Maui Jim sunglasses.
First, one thing about me: I'm hell on sunglasses. I lose them and break them as if they were single-use paper towels. That's why I usually don't get too extravagant when buying them.
One pair I had for years I purchased on the beach in Maui. They were about $300 as I recall, and I did manage to not lose them (how, I don't know) or break them for about 15 years. Finally, I decided to get another pair this summer.
Well, my luck with these wasn't as good, and I shattered a lense. Sat on them in the golf cart. There might have been beers involved too.
So I threw them in a drawer, looking at them every so often, just shaking my head. Then I remembered something; I recalled someone telling me about Maui Jim's unbelieveable customer service policy. Sure enough, I researched it, and found out that they will fix your sunglasses and return them for a simple $8.95 shipping fee. But, it did not cover lenses. However, they would replace lenses for some crazy-low amount like $30 per lense.
I downloaded the form from their site,and  shipped off the glasses with my authorization to charge my card for the repairs.
A couple of weeks later, a box with my repaired glasses arrive. Along with a receipt for, get this, $8.95. They did NOT charge for the lense replacement, just for the shipping! I also received a letter from Lynn Campen, Vice President of Customer Care-Peoria Division thanking me for being a customer, and the name and number of the repair technician who worked on my glasses.
Now we're not talking about a huge amount here. But the impact is enormous! I am a Maui Jim customer for life. In fact, since then, I have already purchased another pair.
Here's the question for you: what do you or your company do that would cause a customer to have a similar feeling and experience? Please do post your comments.
Also, if you have a similar experience to mine that has earned your "customer for life" loyalty, let us know that as well.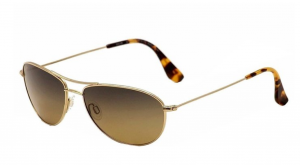 UPDATE: I don't know why, but I've gotten lots of questions about the Maui Jim's that I wear.
I have several pairs.
Right now my favorite is this one.
The Baby Beach.