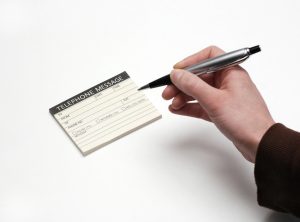 Want to enhance your chances of a voice mail message being remembered, maybe even evoking a return call?
1. Back it up with a written message by an assistant. Ask the screener, assistant, or anyone in the area to scratch out a brief note for the prospect. For example,
"Pat Walters left a voice mail regarding cutting maintenance expenses by 25% and will call back tomorrow."
2. Ask them to NOT put it on your prospect's desk, but on his/ her chair. That sets you apart.
3. Further, ask them to draw a little smiley face next to the message. Don't laugh. Corny to be sure, but memorable, right?
4. Reinforce it with an email, if you have or can get the address.
Of course all of this must complement a great value proposition.
The message must be about them and their world, and what they want or wish to avoid.
What we're doing with that message is making it stand out from the clutter.