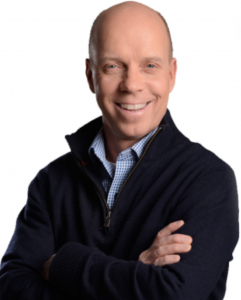 Did you catch much of the Winter Olympics?
I especially loved the stories surrounding the US Men's Curling and Women's Hockey gold medal runs.
Although there always are lots of great stories about the athletes, one that really caught my attention was one about a former Olympic gold medal athlete.
And now a demoted broadcaster.
Scott Hamilton won a gold medal in figure skating at the 1984 Olympics, and did not lose for four straight years in the 80's. After that he became the face and voice of skating on TV. Until a couple of years ago when the network execs decided to go with a couple of younger, more flamboyant and outspoken commentators.
No problem. When he found out, he took it in stride.
There was a sadness for about 10 minutes, he said. Then he got over it. There are other, bigger, major obstacles he has fought in his life. And those he is still battling.
Over the past 21 years he has,
had Stage Four testicular cancer, and,
had three brain tumors, including one he is living with right now.
Scott's attitude toward adversity is one we all can benefit from if we model it in our own personal and professional life.
In a New York Times article he said,
"I calculated once how many times I fell during my skating career–41,600 times. But here's the funny thing: I got up 41,600 times. That's the muscle you have to build up in your psyche. The one that reminds you to just get up."
Copy that, post it on your wall, and look at it the next time you get a "no" or someone ignores your voice mail.
His attitude was partly shaped and encouraged by his wife, Tracie. During one of his bouts with a brain tumor she said,
"Joy is not the lack of suffering or fear, it's how you choose to handle the suffering and fear."
And when a tumor returned in 2016, Scott decided to react differently. He did not take a "Why me?" attitude. He said,
"I decided to go through this with joy. It was just a muscle I needed to build, like the muscles I built skating."
As for the tumor he has right now, radiation was not an option because it would "fry his brain."
So, he took a proactive approach, and completely changed his diet to a natural one, and cut out sugar and red meat.
The result so far?
The tumor has actually shrunk!
Which the doctor said he has never seen happen without treatment.
Scott Hamilton has already won the gold medal in dealing with adversity. And I am rooting for, and betting on him to continue getting up.
What an inspiration!
We all need to be proactive in this profession to keep our attitudes up. Let's face it, by nature, we put ourselves in harm's way every day, and will hear things that most people in other professions don't. Or couldn't, because they would quit.
If you'd like a shot of self motivation, I've prepared a one-hour audio for you, full of inspiration and words to help you be motivated all day long.