Companies spend big bucks to buy the naming rights to stadiums and arenas, with the hope that they will get a return on their investment in the form of advertising, PR, and ultimately sales. Now, a person has sold the naming rights to, well, his last name.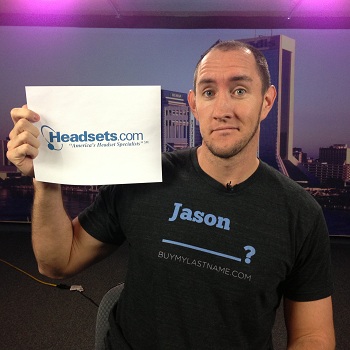 That's right, Jason Sadler is now Jason HeadsetsDotCom. Jason held an auction to change his name to the highest bidder. A frenzy took place close to the deadline, with our our newest sponsor/partner Headsets.com the eventual winner at $45,500.
It's an interesting, somewhat wacky story from a number of angles. Many people and stories are focusing on Jason HeadsetsDotCom and his marketing prowess (or goofyness, depending on your point of view).  Others are amazed that a company would spend that kind of money on a stunt like this.
Personally, I think it's a promotional coup for Headsets.com, the company. I've known the CEO, Mike Faith, for quite some time, and he is a brilliant marketer, in addition to being a great guy, and a customer service fanatic. When Mike first started the company, he rolled the dice and paid a huge sum (a lot more than what Headsetsdotcom, the guy, is getting)  to acquire the URL www.Headsets.com. It has paid off handsomely. Today, Headsets.com (the company) does over $30 million yearly selling headsets. I use their OfficeRunner exclusively at my main office, and home office. 
The purchase/investment is already paying off for Headsets.com. With a quick search I see articles on CNBC, CNNMoney, Adweek, Huffington Post and many others.
He has done a number of TV interviews, including Fox Business, Fox News, Fox and Friends. To buy similar advertising exposure Headsets.com has already received in a couple of days would be many times what they invested.
For an interesting read, you can follow Jason HeadsetDotCom's first day with his new name.