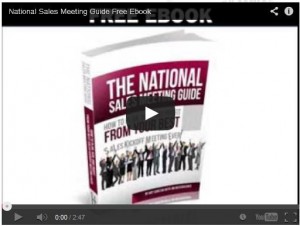 If you are responsible for a sales kickoff meeting, you will get valuable best practices to follow, and mistakes to avoid in this free ebook,
The National Sales Meeting Guide- How to Plan, Run, and Profit from Your Best Sales Kickoff Meeting Ever
By Art Sobczak, with Jim Meisenheimer
In this 40-page guide, you will get ideas that will help you put on a sales kickoff meeting with sessions that everyone will rave about, and use and profit from throughout the year. You'll get ideas for injecting FUN in your sales kickoff meeting, two tips that can save you thousands of dollars, the first actions you must take BEFORE the meeting, and much much more. Check out the video and download your book right now.
In addition, you will see the mistakes to avoid that can diminish the results of your sales kickoff meeting. Get your ebook today!